It's only possible to really get real about choosing your path if you're well connected with your inner self. Only once you've embarked on the journey of self-discovery can you know what's most right for you.
I hope that these self-discovery quotes help to nudge fellow wanderers along on their journey inwards. If you need extra assistance on this adventure, check out these services.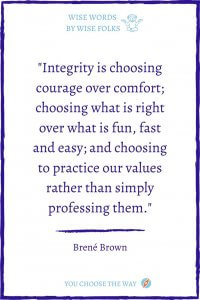 "Integrity is choosing courage over comfort; choosing what is right over what is fun, fast and easy; and choosing to practice our values rather than simply professing them." ~ Brene Brown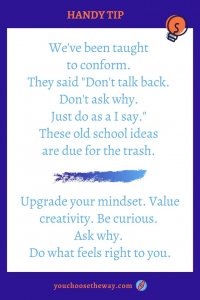 We've been taught to conform. They said "Don't talk back. Don't ask why. Just do as a I say." These old school ideas are due for the trash. Upgrade your mindset. Value creativity. Be curious. Ask why. Do what feels right to you. ~ Jo from You Choose the Way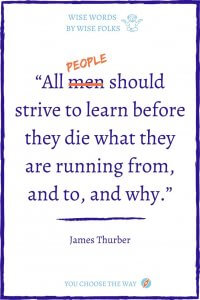 "All men should strive to learn before they die what they are running from, and to, and why." ~ James Thurber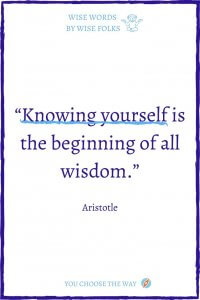 "Knowing yourself is the beginning of all wisdom."~ Aristotle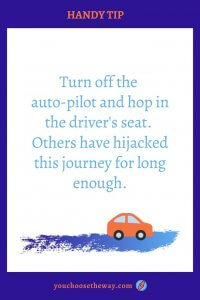 Turn off the auto-pilot and hop in the driver's seat. Others have hijacked this journey for long enough. ~ Jo from You Choose the Way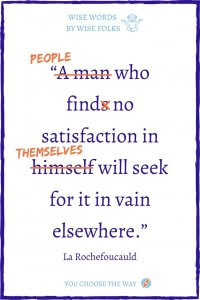 "A man who finds no satisfaction in himself will seek for it in vain elsewhere."~ La Rochefoucauld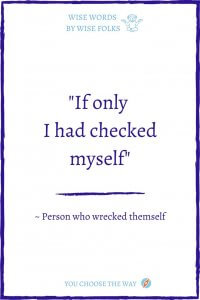 "If only I had checked myself" ~ guy who wrecked himself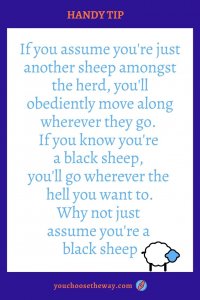 If you assume you're just another sheep amongst the herd, you'll obediently move along wherever they go. If you know you're a black sheep, you'll go wherever the hell you want to. ~ Jo from You Choose the Way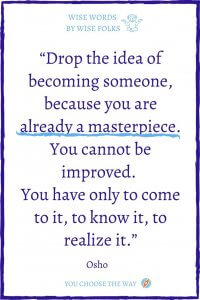 "Drop the idea of becoming someone, because you are already a masterpiece. You cannot be improved. You have only to come to it, to know it, to realize it." ~ Osho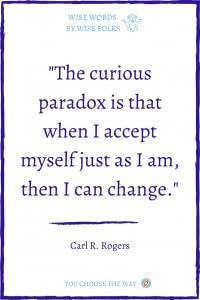 "The curious paradox is that when I accept myself just as I am, then I can change." ~ Carl R. Rogers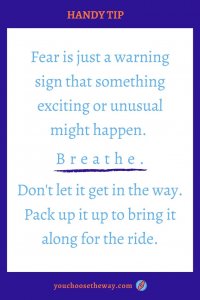 Fear is just a warning sign that something exciting or unusual might happen. Breathe. Don't let it get in the way. Pack up it up to bring it along for the ride. ~ Jo from You Choose the Way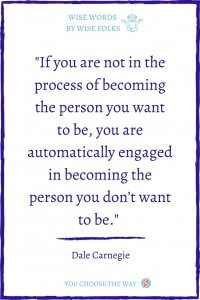 "If you are not in the process of becoming the person you want to be, you are automatically engaged in becoming the person you don't want to be." ~ Dale Carnegie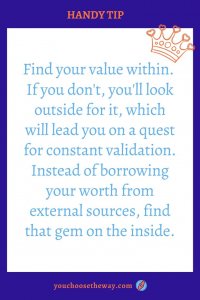 Find your value within. If you don't, you'll look outside for it, which will lead you on a quest for constant validation. Instead of borrowing your worth from external sources, find that gem on the inside. ~ Jo from You Choose the Way
"Growth is painful. Change is painful. But nothing is as painful as staying stuck somewhere you don't belong." ~ Mandy Hale
Being a copycat of your role models is like using training wheels on a bike. It might help you at first, put if you use this strategy too long, it'll hold you back. Take off the training wheels. Forget about copy + pasting any else's way. Find your way. ~ Jo from You Choose the Way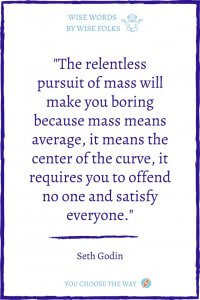 "The relentless pursuit of mass will make you boring because mass means average, it means the center of the curve, it requires you to offend no one and satisfy everyone." ~ Seth Godin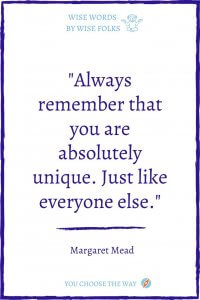 "Always remember that you are absolutely unique. Just like everyone else." ~ Margaret Mead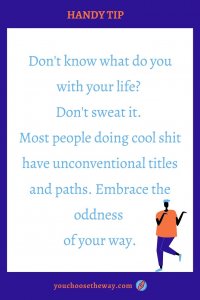 Don't know what do you with your life? Don't sweat it. Most people doing cool shit have unconventional titles and paths. Embrace the oddness of your way. ~ Jo from You Choose the Way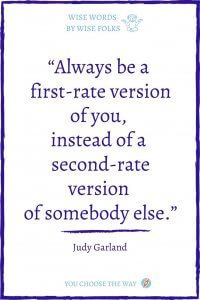 "Always be a first-rate version of you, instead of a second-rate version of somebody else." ~ Judy Garland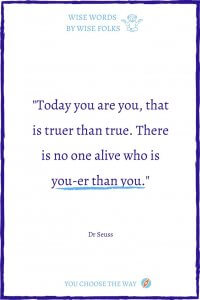 "Today you are you, that is truer than true. There is no one alive who is you-er than you." ~Dr Seuss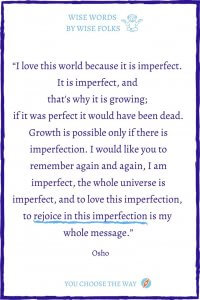 "I love this world because it is imperfect. It is imperfect, and that's why it is growing; if it was perfect it would have been dead. Growth is possible only if there is imperfection. I would like you to remember again and again, I am imperfect, the whole universe is imperfect, and to love this imperfection, to rejoice in this imperfection is my whole message." ~ Osho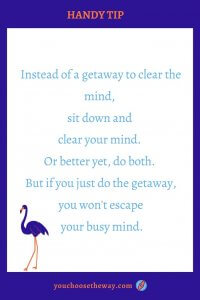 Instead of a getaway to clear the mind, sit down and clear your mind. Or better yet, do both. But if you just do the getaway, you won't escape the busy mind. ~ Jo from You Choose the Way
Don't have time to read all these self-discovery quotes, but would like to check them out later? Pin the article here!