It's March 2016 and we're driving back from checking out the perfect rental home in the Belgian Ardennes. The perfect rental, yes, well, on paper that is.

Jan and I have been living together for 2 years and the rental we are currently living in is sold, so we're looking for a new place to live. Since both of our jobs are location independent, we're free to live wherever we want.
Nice to have the freedom to choose? Yes. Easy? No way!
Once you have that type of freedom, then you start wondering "What is it I truly want?"
"…but it makes me smile too, because with the end of one journey will come another. That's what life is anyway: new journeys."

Kamal Ravikant
A bit about me and my life path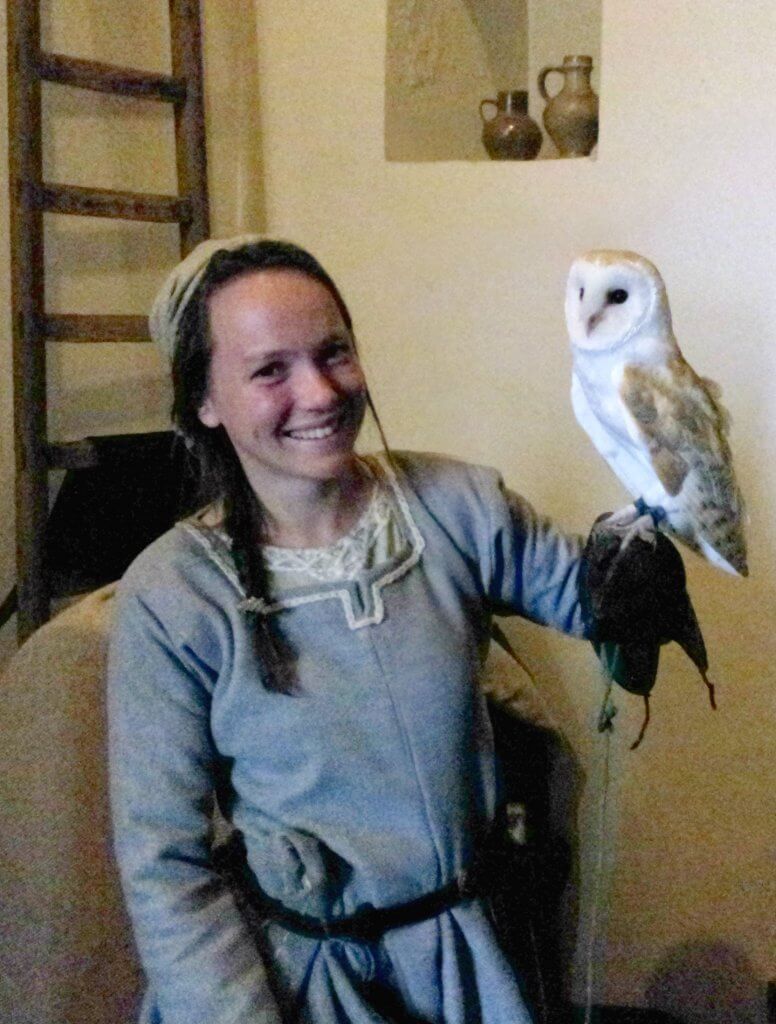 I'm Lydia, a typical Dutch girl, who loves her freckles when they come out every summer. As a kid, I dreamt of becoming a fighter jet pilot or an astronaut, but since I easily got car sick, I soon discarded both ideas.
Instead, I started dreaming of knights and getting lost in nature. Reading historical tales and drawing on every piece of paper in reach became my go-to ways of passing the time.
Those childhood fantasies pretty accurately unfolded to become my reality. After high school, I went to art school, where I regularly reenacted tales of the past. I dressed up almost every weekend in medieval gowns and played in shows of damsels in distress and brave knights. In the evenings, we gathered around campfires and slept in medieval tents. Oh, I loved that time!
My partner and I met one day while lost in nature. Ok, we were doing a bushcraft course in the Belgian Ardennes, so we were lost in nature on purpose. We officially became a pair shortly after during my first ever backpacking adventure and wild camping trip in Scotland. Just 6 months later I moved from the Netherlands, my home country, to be with him in Belgium.
Except for the modes of transport with massive engines, I've now become the explorer I dreamt of as a kid. Not as a fighter jet pilot nor as an astronaut, but even without venturing to space or high into the sky, the Earth still has plenty of big and beautiful spaces to explore.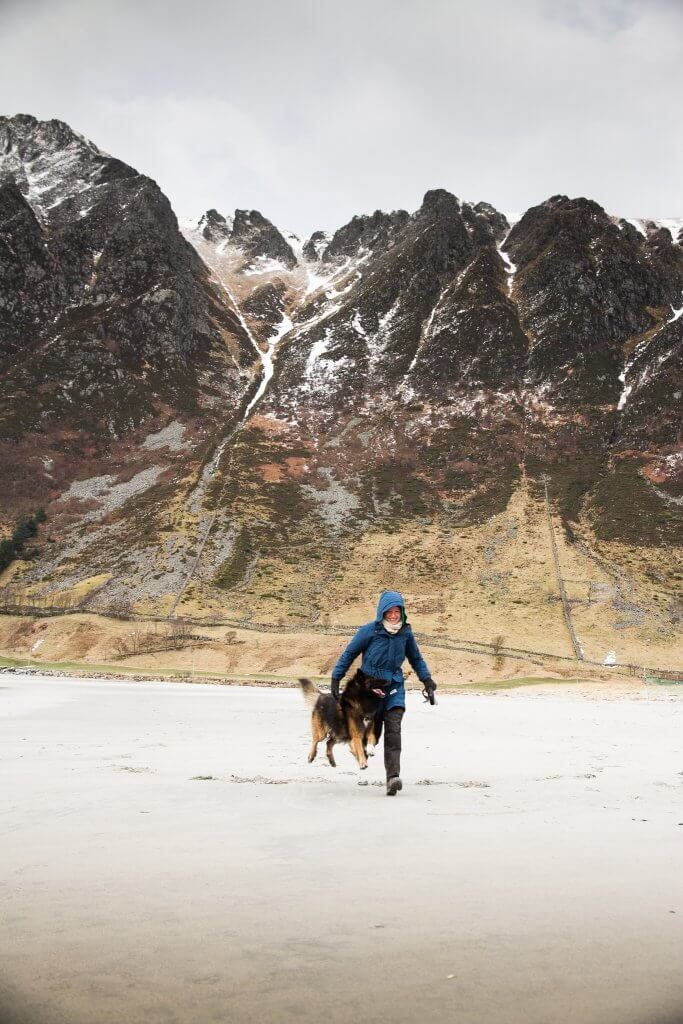 Ditching the idea of having a set home
Ok, so let's rewind back to 2016. We had just visited a rental home that was technically exactly what we wanted: a beautiful 17th-century cottage in the Ardennes with a forest walking distance away.

But it didn't feel right. I mean, is this it? Do we really want to live here? We don't know the town, the people… will we feel at home? I can't speak French (yet). Would the locals be open enough and patient with me as a learned and practiced their language?
When driving back home that night I had a random idea: It's so hard choosing where to live, can't we just try out different places?
As a teenager, I dreamt of living in Scandinavia. But moving there would be a bit risky. Couldn't we just try it out first?
We follow full-time vanlifers on Instagram and know of the idea of digital nomads. But we have two cats and a dog, so moving around by plane isn't an option and driving around in a van with one cat that's half-blind and another who can't be picked up doesn't seem viable either.
While discussing this idea one night a crazy idea occurred to us. Let's just bring our home with us on the road!
We could buy a good caravan, rebuild the interior a bit and find places where we could park our home using WorkAway.
The idea stuck.
Meanwhile, we kept looking for rental homes, but the whole idea of living in a house started feeling more and more uncomfortable.
So big, so settled, so much stuff…
While doing some research, I soon found out about good Scandinavian winter caravans that have a special heating system and good isolation. If we would be living full-time in this caravan we didn't want to deal with moister and cold. Eventually, we bought the caravan, I modified the interior and shortly after we moved out of our home.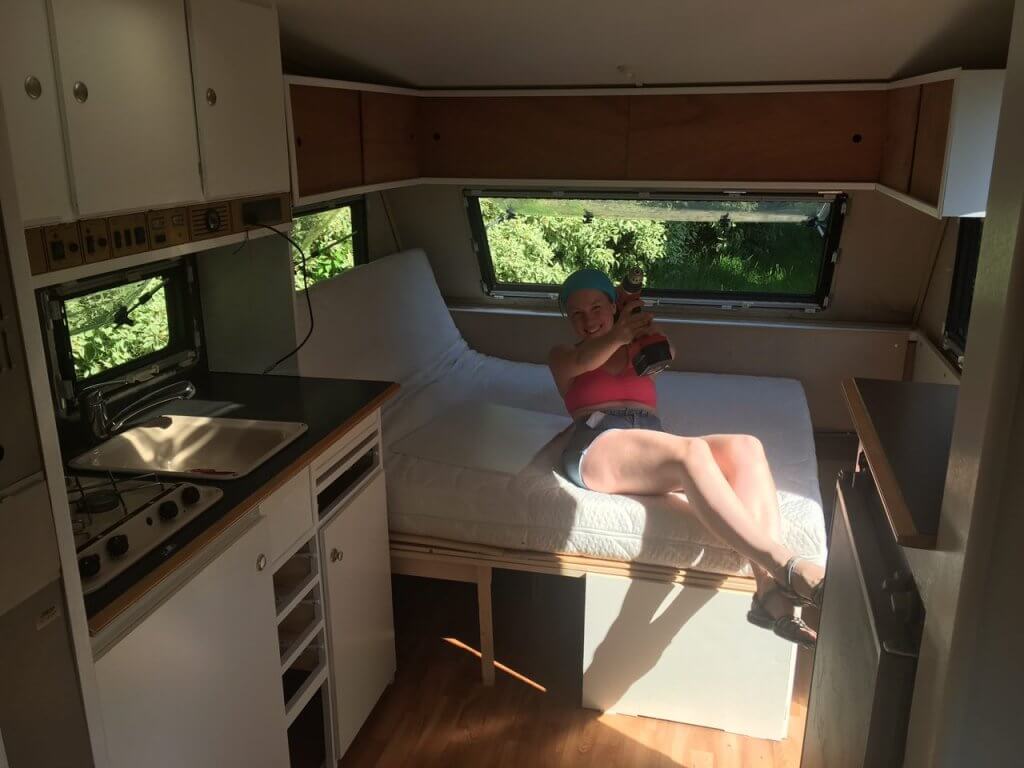 Finding a home between horses
Our first stop with our new caravan was still in the Netherlands. Jan needed to be in Amsterdam sometimes for work, so we thought we'd stay around for a few more months before moving onto Sweden or Norway.
We ended up staying year.
It was a beautiful place; the owners had 20 horses, 3 dogs, 2 cats, 10 chickens, a turtle and 10 foster children. The horses were outside 24/7, had tracks to roam around in, trees for shelter, water to play in and places to lounge in the sun. Our caravan was 4 meters from the track, so we regularly saw galloping horses through our window.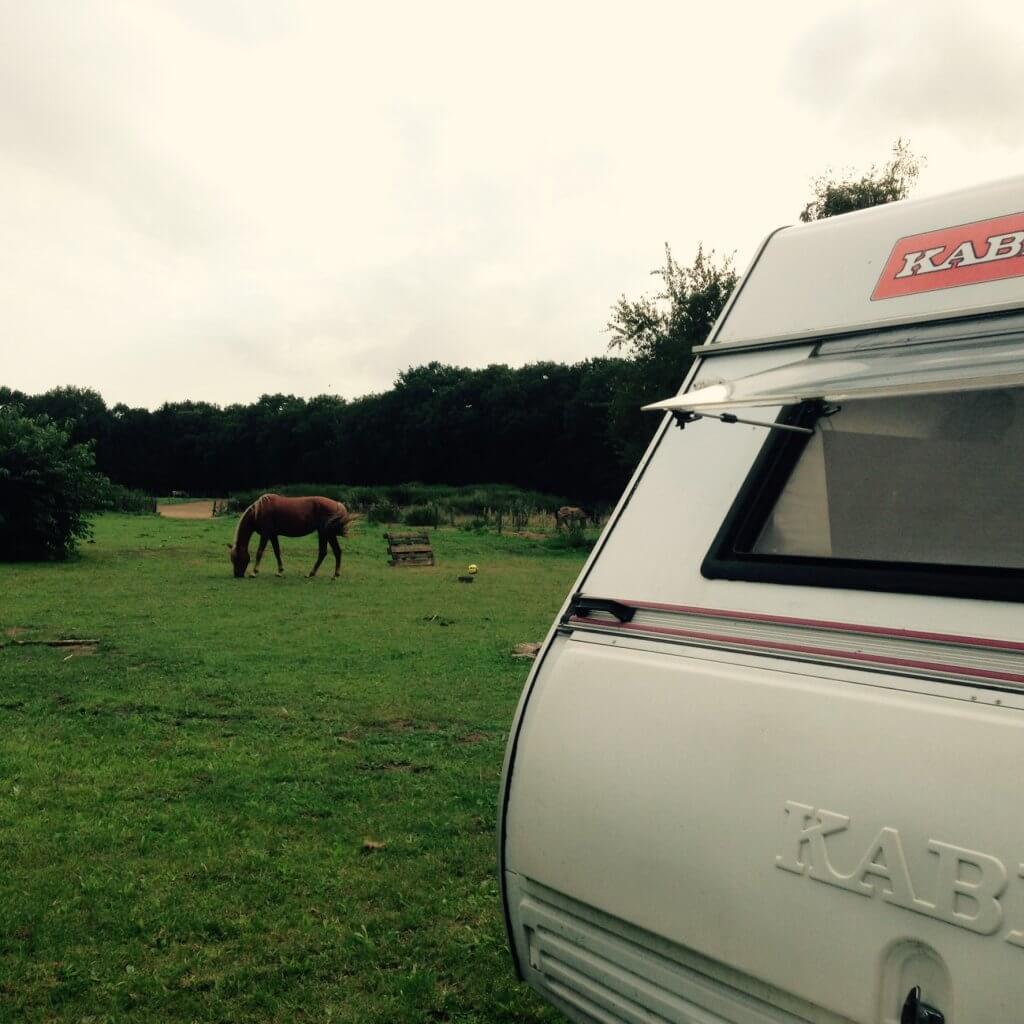 We helped with shovelling poop, filling hay-nets, feeding the horses, collecting the young kids from school, bring others to therapy and cooked for and look after things one night a week.
After three months it felt like we still had just arrived and still had lots to learn. And, our cats just started getting comfortable in this new place. Plus, staying here meant that Jan could stay longer on the project he was working on.
So we stayed.
After a year, though, it was time to go. We started feeling like we were overstaying our welcome. So, off we went to the next destination.
A few hard choices
We still dreamt of exploring the world but started to feel as though it was extra hard to share this dream with our cats. We decided that it was time to give them up. I still sometimes feel bad about it, but I know they're very happy in their new home. Plus, this decision allowed us to keep living our dream.
It was then that we bought a new van to try to help make this lifestyle more sustainable, only to realize that we preferred staying in rental homes through Airbnb. I mean, it's perfect! Contrarily to life in the caravan, you still have a shower, can stay in places with -30 Celsius outside, and always have a good Internet connection.
We hadn't sold our old car yet, so we decided to sell the new van and travel with our regular car.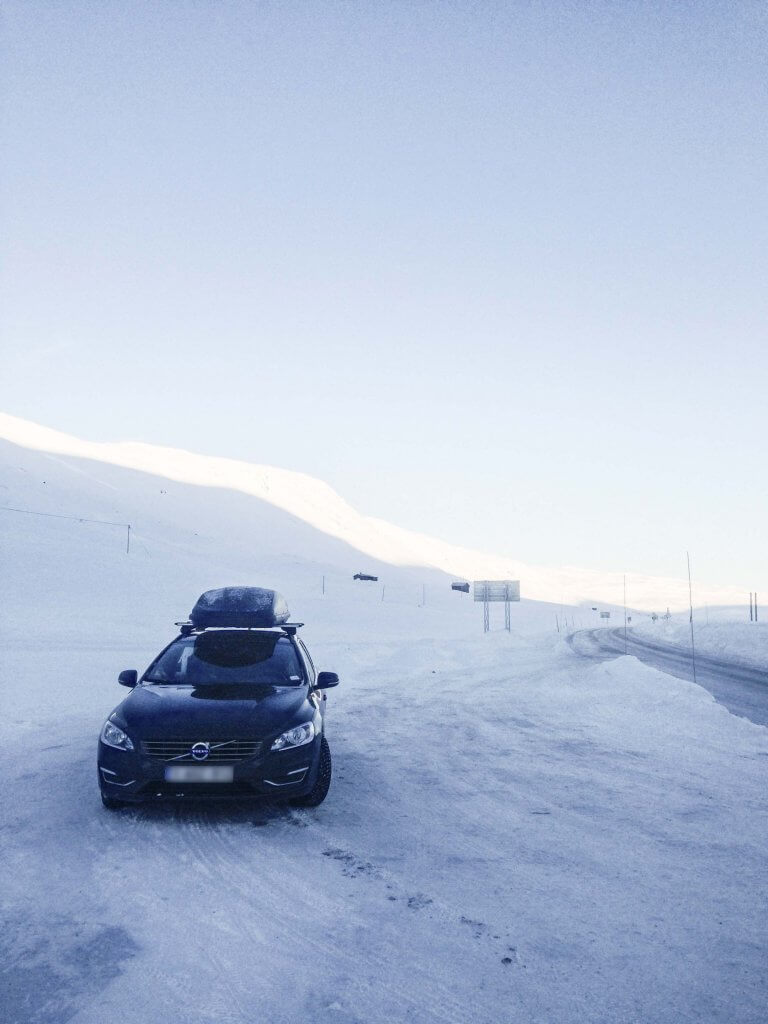 Lessons of a nomadic life
We love this nomadic lifestyle. We learn and discover so much, not only from the external world but mostly from the world inside ourselves. Encountering so many discomforts helps you learn a lot about your inner self. In the year and a half we've been traveling, we've made giant leaps in our spiritual and personal growth.
It's not always easy, but that's true no matter what life path you choose.
One of the aspects of nomadic life that we struggle with the most is finding peace and calm after arriving at a new temp home, especially when we are exhausted.
There are always things that make you feel uncomfortable; maybe the place isn't as clean as you'd like, or it smells a bit weird, the first contact with the owner doesn't go smoothly, or worst, we feel unsafe.
"Do we have to stay here for a whole month?" – we grumpily wonder.
At first, we complained in these circumstances a lot, which made it even more difficult to feel at home in new places. So, we decided to make a 48-hour no complaining rule. This means we are absolutely not allowed to complain about anything for the first 2 days in a new home, even about things seemingly unrelated to the new place.

This new rule has worked like a charm to make us happier and enjoy our new homes much easier!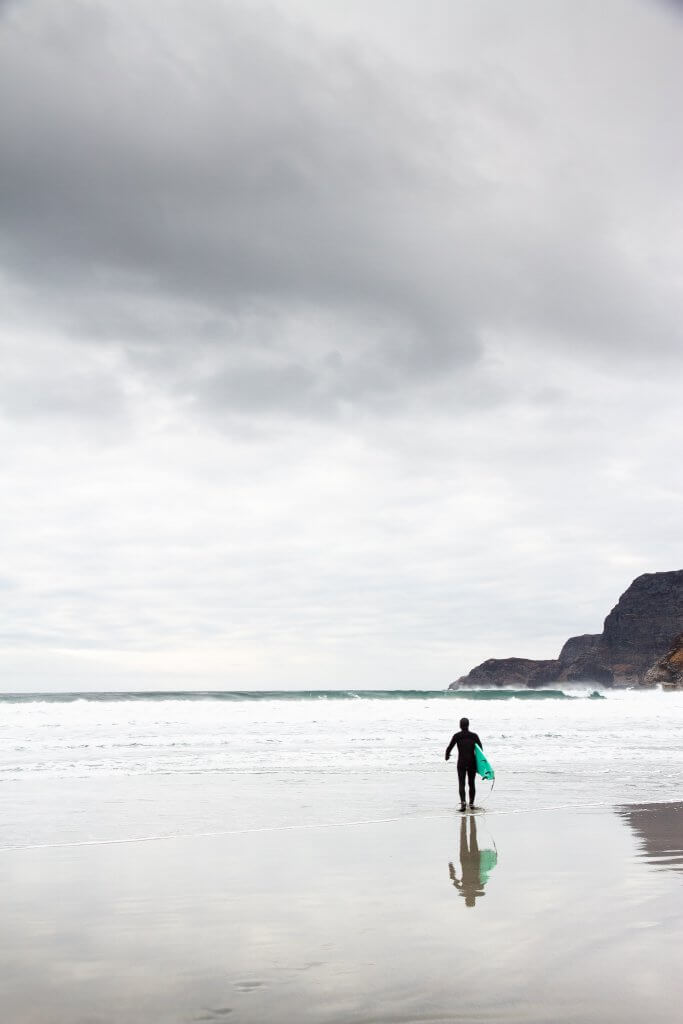 Always searching for a home that feels right
Another thing we struggle with is that we're always searching. Is this it? Is this where we want to settle down?
We've fallen in love with Norway, but with two completely different regions. And if we moved to Norway, how would we visit family?
We've spent the last five months back in the Netherlands. During this time, we've had this debate a lot.

Do we want to settle somewhere? Have a place we can leave our stuff, where I can have an art studio, then travel a few months a year? Or do we want to keep on traveling full-time?
Comfort vs. freedom
Funnily enough, we've grown to really like the discomforts of nomadic lifestyle. It makes us more alert and teaches us so much. We are constantly learning more about ourselves, who we are, what life is all about and what we truly want.
I once heard someone describe it as the comfort vs.freedom dilemma; the more you are willing to give up on comforts, the more freedom you get. And not only physical freedom, by getting to explore new places, but more importantly inner freedom to truly be yourself.

Our future plans aren't ever more than a few months away. In May, Jan is going to do a yoga teacher training in Austria and in June I'm organizing a retreat in Norway.

Beyond then, we don't know where we'll be or what we'll be doing.
We are thinking of really diving into discomfort and living in nature in our tent for the summer. Of course we wouldn't be able to work during that time, because we wouldn't have electricity.
But we're still not sure.
We'll see…
About the author
Lydia lives together with her partner Jan and their Belgian shepherd Oskar. They travel full-time in Europe. As an artist, her travels and nature are her main sources of inspiration. Living life the way she does, she's discovered the joy of being in the present and truly living and experiencing life. She now shares this path of connecting with your inner self and finding your own authentic expression through an online program and retreats. Read more about what she does and download 5 free meditations here.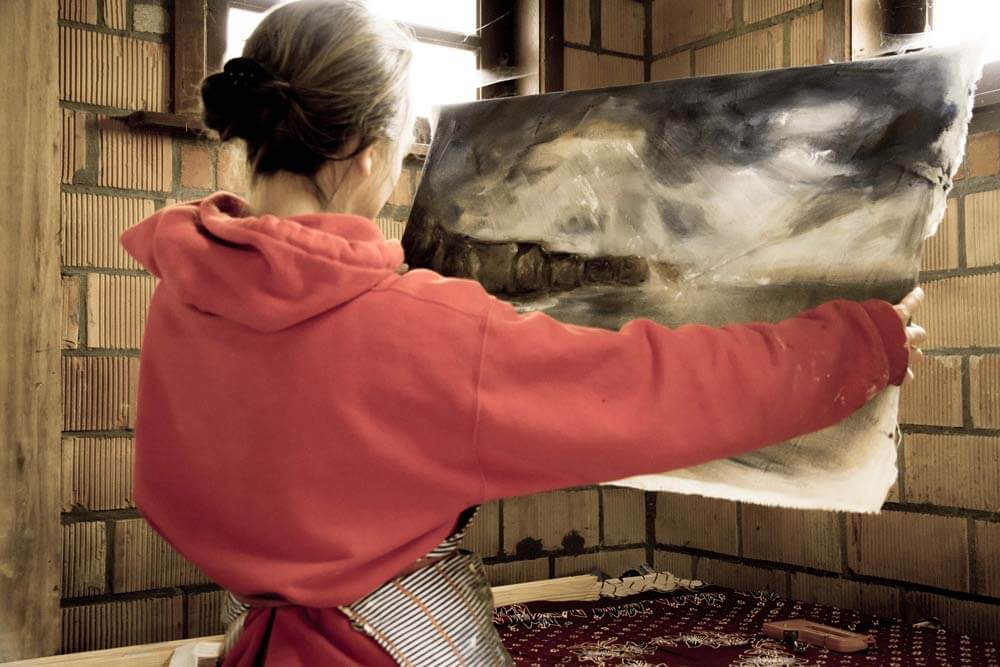 Interested in reading about how Lydia went about finding a home but don't have time right now? Pin it here!