Do you hear about it all the time, but still wonder 'what is yoga and why do people do it?'
You may think that yoga is all about people going to a class and doing stretches together. You may think you need to be super bendy or at least be able to touch your touch to do it. Your mind drifts to needing to buy expensive Lululemon gear and be able to stand on your head to go to a class. Well, I'm hoping that this article helps to bust those myths and gets you to at least try a class.
It might be the "hobby" that ends up changing your life as it has for me.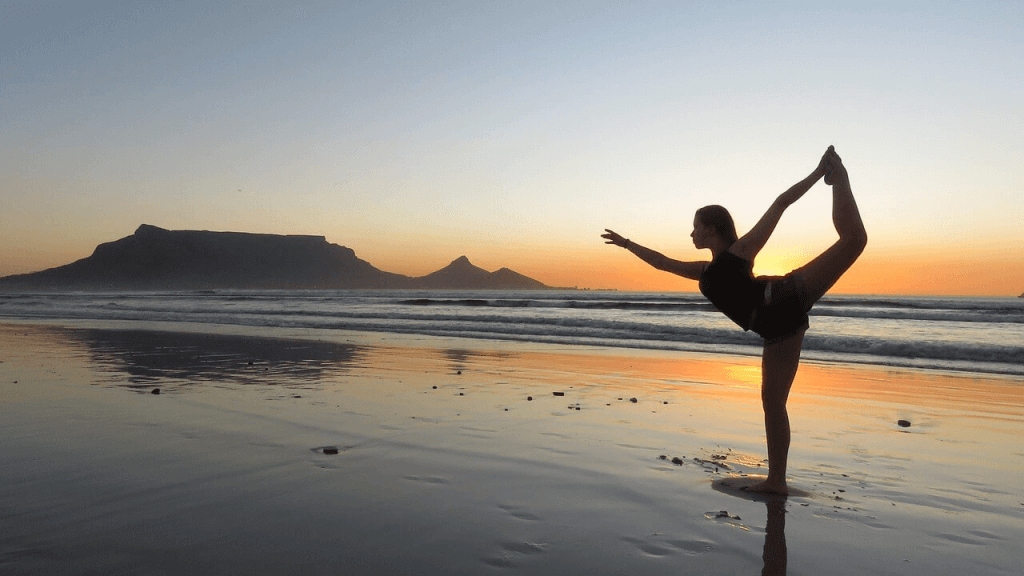 What is yoga?
The word yoga means connection. It's used to describe the mind, body and soul connection that happens when you do yoga. A well-rounded yoga practice usually includes doing postures, breathing exercises, meditation and applying certain lifestyle habits.
There are many different styles of yoga, which usually tend to focus on different ways to move through the yoga postures.  Hatha, Ashtanga, Bikram, Kundalini, Iyengar, and Yin are some examples you might have heard of (if you'd like more info on different styles of yoga, this article should help).
For me, what's more important than the different ways of doing the postures is the connection aspect.  More than just postures, yoga is an opportunity to use postures and other techniques to truly connect within.
But, as most people are introduced to yoga for its physical benefits, I'll start by telling you a bit more about that.
Moving the body
I was first introduced to yoga at a gym in my early 20s. The class was athletic, dynamic and focused on physical movements. I've always enjoyed pushing myself physically and so this "new health trend" was right up my alley. It seemed like nothing more than fast-paced stretching.
We moved through a series of postures focusing on the movement of our core and limbs.
Move your leg here, deepen the stretch; breathe, then move deeper into the pose… were the given instructions. This was no place for a heart or soul. It was my body and mind that were in charge here. How come I can't do this posture? Look at that girl, she can do it even better than me. I'm sleepy. I wonder what I should have for dinner, were what went through my mind for an hour and a half while I moved from one posture to the next.
For the following 5 years of sporadic yoga classes, my understanding of yoga remained rather light. I tried a variety of different types of classes, with a mixed bag of different teaching styles, but never genuinely captured the essence of yoga. My focus settled in a very superficial place.
For many, this might be what yoga ends up being. A physical exercise that helps to gain flexibility, strength, and stability.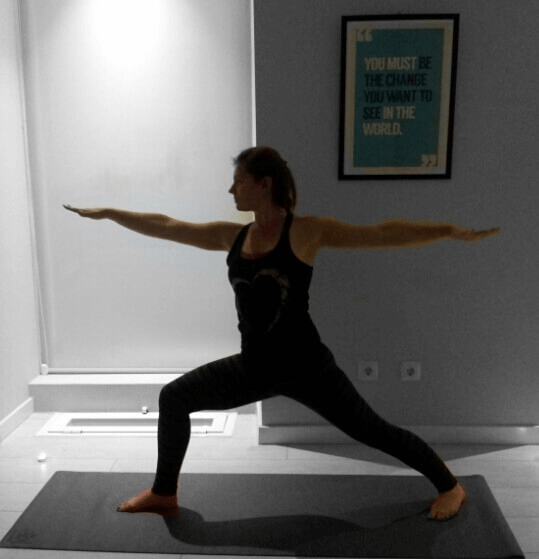 Hearing the body and connecting
Things started to change when I started meditating outside of yoga class. While going through a rather stressful period in my mid-20s, I felt drawn to learn more about this practice I had heard so much about. I was intrigued to better understand what meditation is, how to do it and what it could do for me.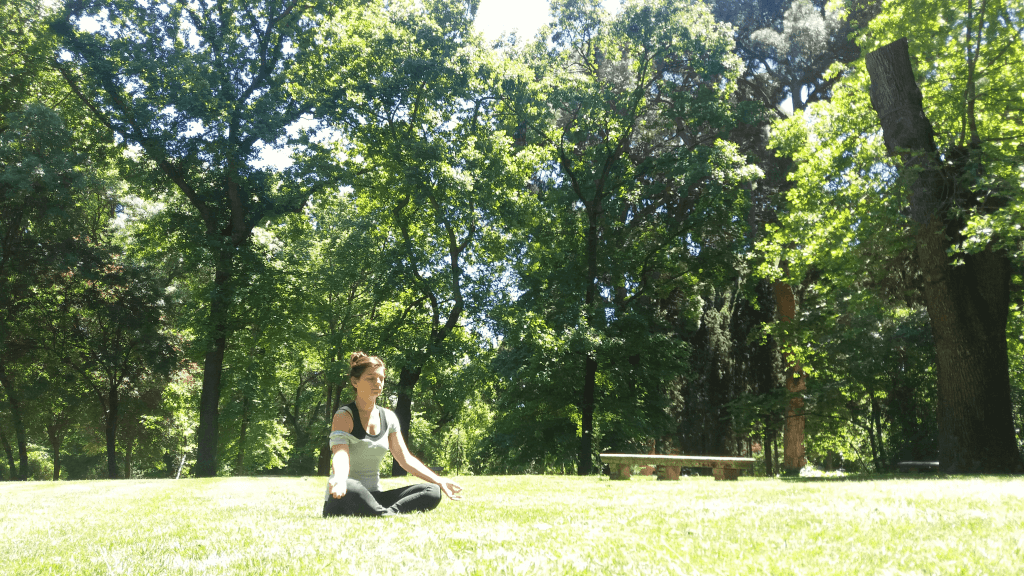 I started by doing guided meditations through YouTube tutorials and podcasts. It started out as irregular as my yoga class attendance, sitting down maybe once per week to clear my mind.
Eventually, I enrolled in an 8-week mindfulness course, which was the gateway to becoming a dedicated student of all things consciousness and connection.
It was during this time that I started noticing a shift during yoga class. Slowly, the practice became deeper and more connected. That hour and a half gradually became more introspective. I began to hear my breath and my body more clearly and the noise within my mind and in the streets outside the class progressively quieted.
I started to pay attention to every inch of my body. As I downward-dogged, I'd notice the sensations in my legs, in my knees, in the top of my thighs, the bottom of my shins, my right foot, each toe, one by one. Inch by inch my attention would move along my body to the rhythm of my breath.
Mind, body and soul connection
Now when I go to yoga class, thoughts of dinnertime planning or to-do lists still pop into my mind while I hold my warrior pose.
It's unavoidable to lie in Shavasana (the final relaxation pose) without thinking of the cold/warmth I'll feel when I leave the class. But gradually the amount of time I give those thoughts has reduced. Yoga has become vital for my spiritual and mental health.
I crave the space that hour and a half gives me to breathe and flow in peace. It's a space where I'm completely allowed, and even encouraged, to release the obsessive, irrational, never-ending thoughts that run through my head all day.
Within this space, I'm also encouraged to forget about others (disconnecting from their thoughts, feelings, actions, reactions, etc.).
I am given the freedom to just be. By myself. No explanations. No judgments. Nothing else but me and the present moment. Breathing and moving through sequences of movements.
My attention goes within.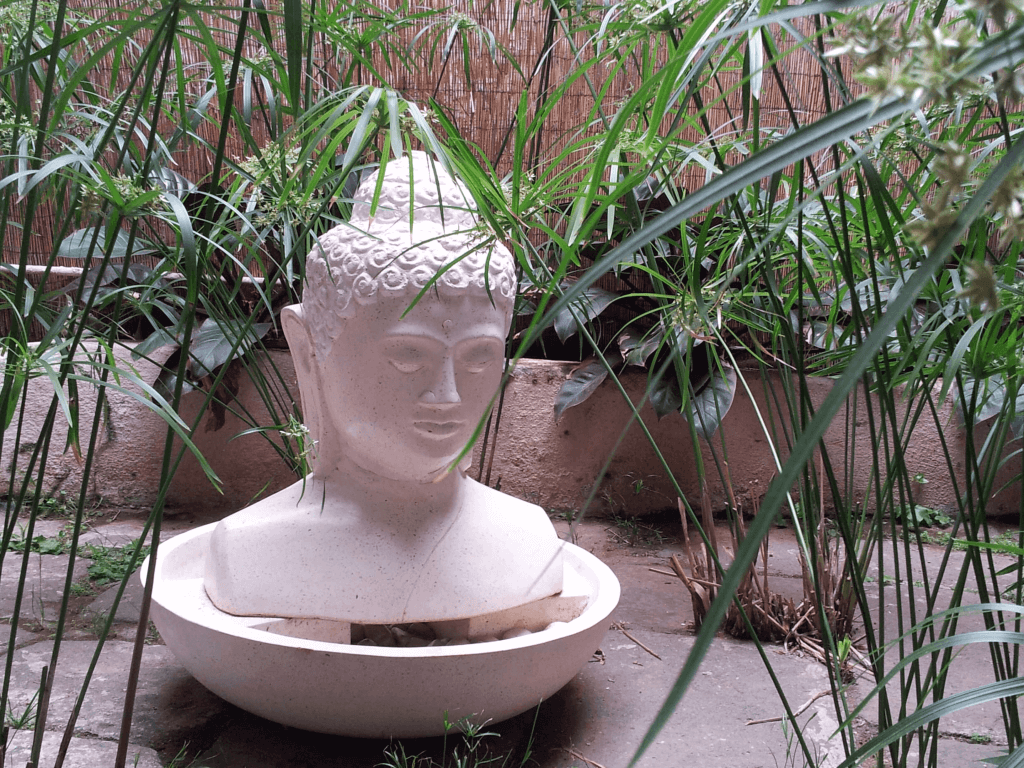 What does it mean to you? You choose!
The point of this article isn't to tell you what yoga should be for you. It also isn't because I think you care about what my personal yoga journey has looked like.
The point is for you to see how many different levels yoga can have.
For some, yoga will never go where it's ended up for me. It will continue to be a pleasant hour and a half of leisurely stretches, where you can relax and think of your to-do lists to the soothing sound of Ludovico Einaudi. In the end, that's cool too.
Everyone has his or her own journey and that's true for each person's experience with yoga too.
If you've always been interested in trying yoga but have found excuses not to do it time and time again, I'm hoping to be the nudge you need to give it a try. Whether yoga simply ends up being a class at the gym you go to every now and again to stretch out your limbs or grows to become a philosophy you lead your life by, I don't doubt that you will benefit from it.
Learning to pay attention to your body, mind or soul is always a plus.  But if you are brave enough, I dare you to take the time to learn how to connect all three.
 Yoga class logistics
I thought I'd go into a bit of detail about what you can expect when you go to a yoga class. Surely some people reading this have never gone to yoga class, not because they aren't interested in the potential mind, body, soul connection, but because they are intimidated by the super bendy classmates they'll have to contend with. Or they have no idea what to wear.
So here is, a mini-yoga class briefing.
Forget about those mega, bendy, super yogis. Your yoga session shouldn't be about them or needing to touch your toes. Focus on you and what you can do today.
Wear something comfortable. It doesn't have to be skin tight leggings, but avoid wearing jeans. Ideally, your clothes shouldn't limit your movements.
Be patient. No one learns to do anything well after going to one class.
Yoga teachers all have a very different style.  Find a teacher that suits you.
Here's a super general, standard class breakdown:
Arrive and sit on your mat. Take a minute to bring your attention inwards. Close your eyes and focus on your breath.
Classes can start and/or finish by singing Om. If you feel comfortable, join in, if not, no biggie.
Set an intention for your class.  Maybe something like, try to stay present throughout the class or to keep an open mind about the practice.
A short guided mini-meditation. Try to just bring your attention into the present.
Breathing exercises, again the teacher will guide you.
Postures. The teacher may use words you don't know or make reference to things you don't understand. Just ignore those. Listen to their instructions. And if they are also doing the postures, watch them for guidance.
Final relaxation. Lie on your mat and relax.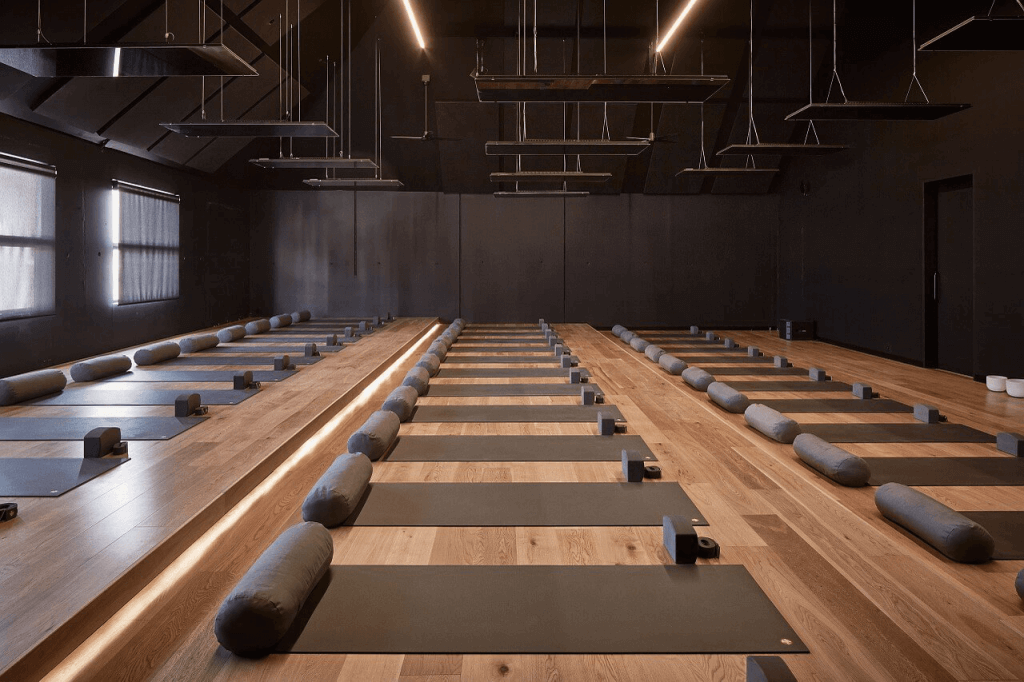 I thought I'd finish off this article by adding this 10-minute guided meditation, in case you're curious and would like to give it a go.
If this article does end up convincing you to try out a yoga class or even give meditation a try, let me know. I'd love to hear about how it goes.
Interested in reading the article, but don't have time right now. Pin it here!