As I often say here on this blog, for me, the best way to find and build a life that is in line with your heart's truest desires is to take the time to connect within. Creating a BBF bond with the deepest and most honest versions of you will serve as an internal compass that will keep you oriented throughout the journey. And for me, the #1 way to get that compass working is through meditation. And so, as I find meditation so helpful, I'd thought I'd write up a list of amazing meditations tips and tools to help you get started with your own practice.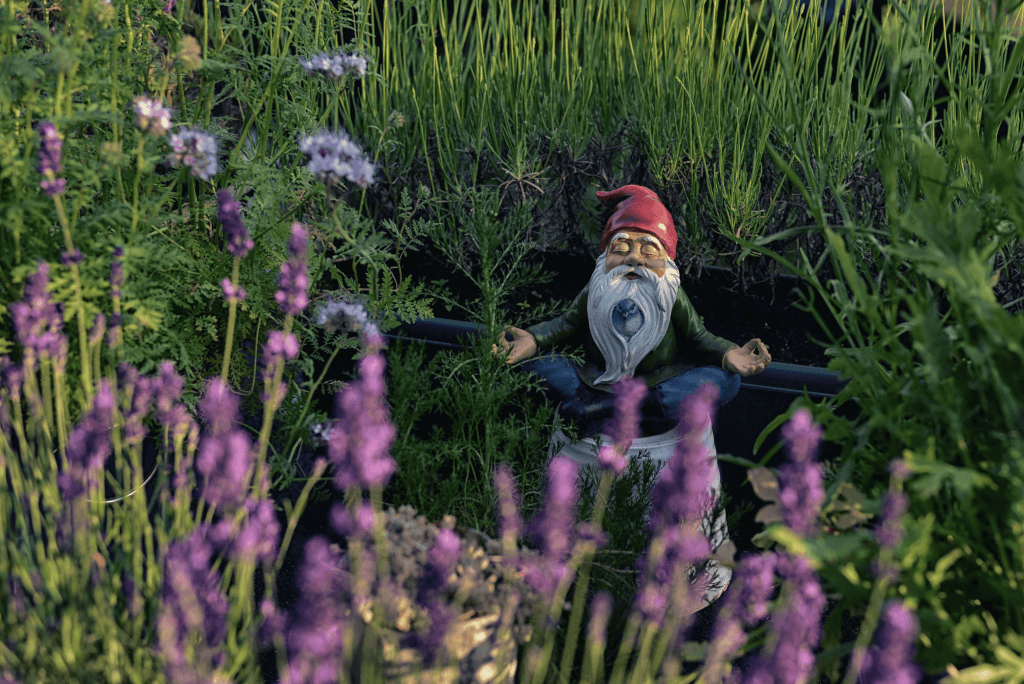 What is mediation?
Meditation is a practice where you sit and focus your attention. The more you sit, the more you get acquainted with the thoughts that often dance through your mind and the bodily sensations that you've become used to ignoring.
You try to keep your attention focused, on say, the breath, and watch what happens inside as you do this. Every time your mind gets distracted and thinks about anything else, as it will, your job is to notice and bring the attention back to the breath.
It seems like a simple task, but for anyone who has ever spent any quality time with their mind knows, it's not an easy beast to control. It takes patience, dedication, and will-power. But as soon as you make room in your schedule for a few minutes per day of stillness, the benefits can be felt pretty quickly.
If you'd like to read more about meditation and what it is and who it's for, check out this article.
Why should I meditate?
In this article, I'm not looking to dive into the details of all the benefits of meditation. But I wanted to quickly remind you of how meditation can improve your life.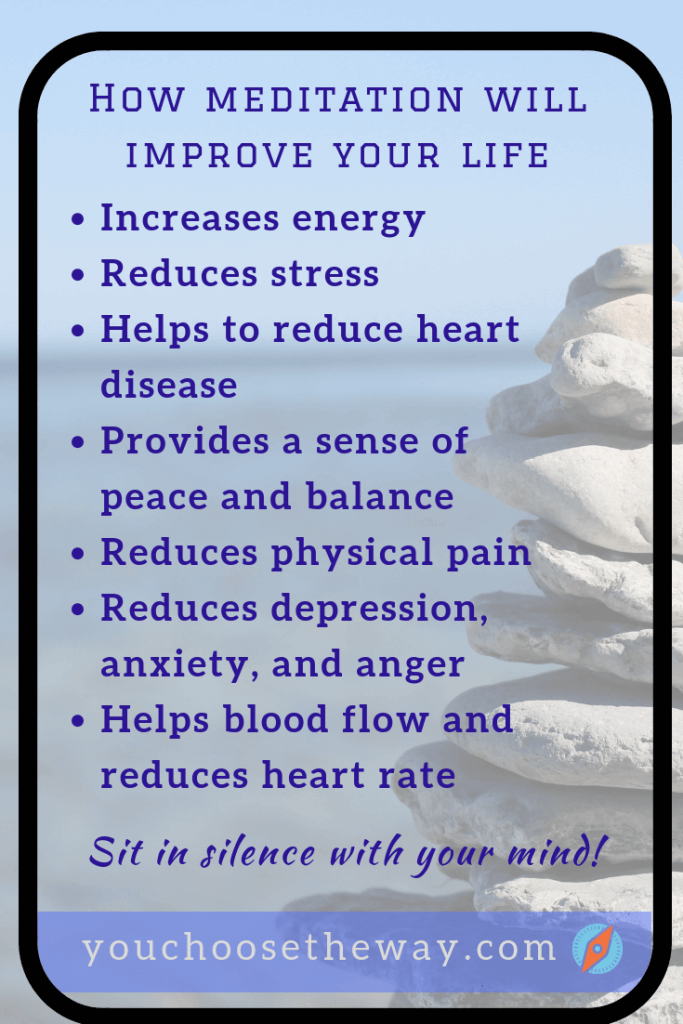 If you're interested in reading more about my personal experience with meditation and more about the benefits of meditation, check out this guest post I did on a friend's blog.
Meditation Tips
In this section, I'll give a bit more info about different aspects of starting a meditation practice that people often ask me about.
Posture
While meditating, we're trying to find that sweet spot in our mind between it being overactive, racing from one thought to the next without any focus and it being sleepy. And so, to get the mind in that state, it helps to get the body there too. We use the same parameters, active but not tense, for the body and posture.
You can be seated on a chair or on the floor, whichever is most comfortable for you. Either way, you want to make sure that your back and neck are lengthened and active, but not stressed. Your shoulders should be rolled back and your head slightly looking down. More importantly, release any tension or stress you find in your body.
If you're on a chair, make sure your feet are on the ground. If they aren't, put a pillow beneath them. And if you can, don't lean on the back of the chair. This will help keep you alert and conscious.
If you're on the ground, sit on a cushion so that your hips are higher than your knees. Ideally, your knees are both on the ground, creating a tripod between your knees and your bum on the cushion. If your knees don't reach the ground, put cushions beneath them.
Handy tip! If you're on the ground, don't crisscross your feet. Instead bring one slightly in front of the other. Watch the video to see what I mean.
Time
There is no rule for how long you should sit. Ideally, you get into the habit of making space for meditation in your life every day. Even if that starts out as just 5 minutes per day.
Five minutes is better than no minutes. But, ten minutes is better than five…
As you get more used to meditating, you can start increasing the amount of time you sit for. But the idea is to keep the growth slow and sustainable. More than rushing to increment random sittings, I would suggest trying to incorporate a few minutes of mindful breathing a few times per day.
Then as you become more comfortable sitting in stillness with yourself, you can increase to 30 minutes per day, even adding a second seating throughout the day, if you like.
Handy tip! For me, I only managed to make meditation a daily practice, once I started doing it in the morning. If I waited until the evening, I was always too tired or busy. I know, waking up earlier than you already wake up is unthinkable. But, waking up 15 minutes earlier to meditate will give you more than 15 minutes worth of energy back. Give it a try.
Point of focus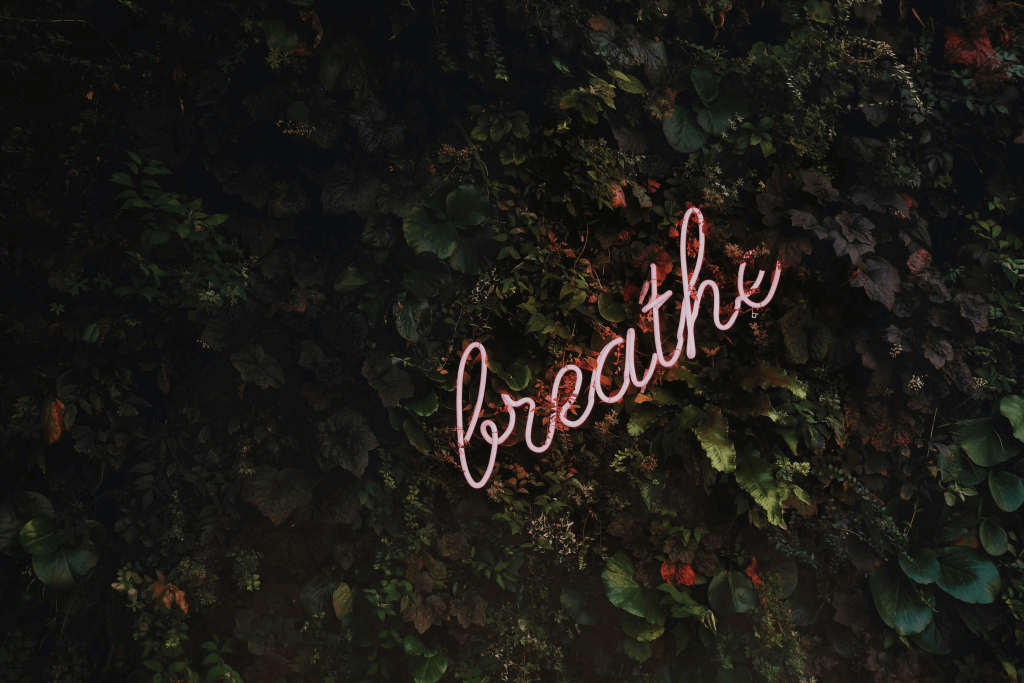 In meditation, you use a point of focus in order to still the mind on one specific thing. We often use the breath for this. Although there are many different practices, from many different traditions, which use plenty of different objects or sensations as the point of focus. For example, you can use:
A physical object, like a candle or a mandala
A mantra that you sing out loud or say in your head
Sounds
Sensations in the body
The cultivation of compassion or joy
The third eye (the space between your eyes)
Ideally, in one sitting, you aren't bouncing between focuses. For each moment that you sit to practice, you choose one and focus on that object throughout that whole sitting.
Handy tip! If you are new to meditation, try out different techniques. Find one that works for you. There are so many different types and no one default style that works for everyone. If you'd like to read more about different techniques, this guy wrote a really in-depth article about just that.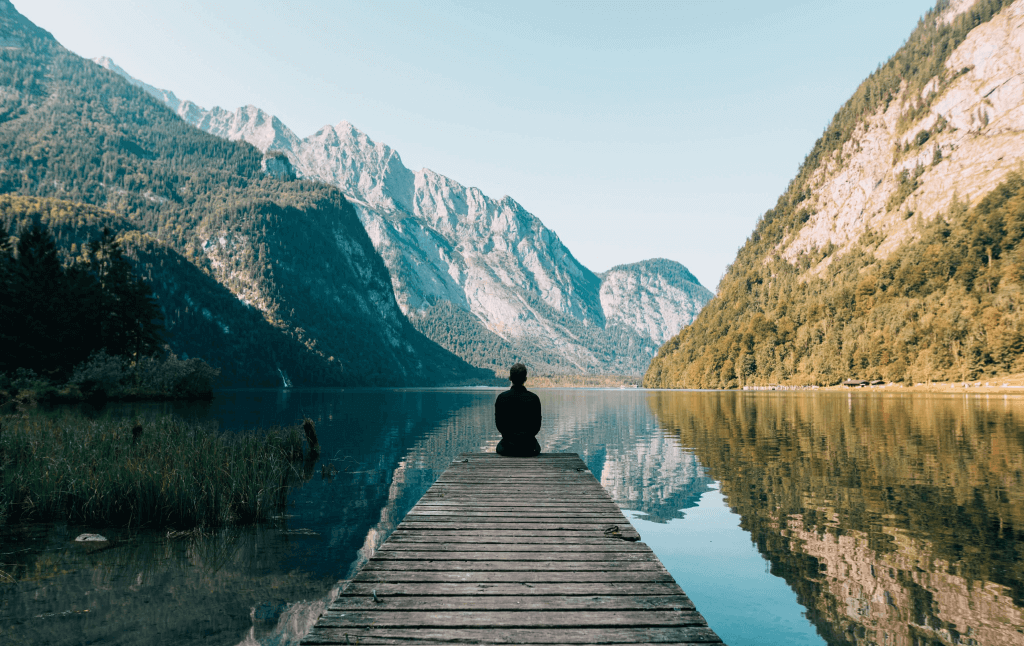 Meditation tools
Here, I'll provide you with different resources to help you get into meditation as soon as you're ready. These will be places you can go to or tools you can use, to learn and practice solo or with others. I'll divide the list into 2 sections, one for tools to find in-person meditation sessions and the next section for digital meditation tools.
This section of the post contains affiliate links. If you buy anything through these links, I will get a referral fee and you will be supporting me and my blog at no extra cost to you. So thank you, kind friend! As with everything in this blog, I only promote products or services that I believe could really add value to your life.
Finding in-person meditation sessions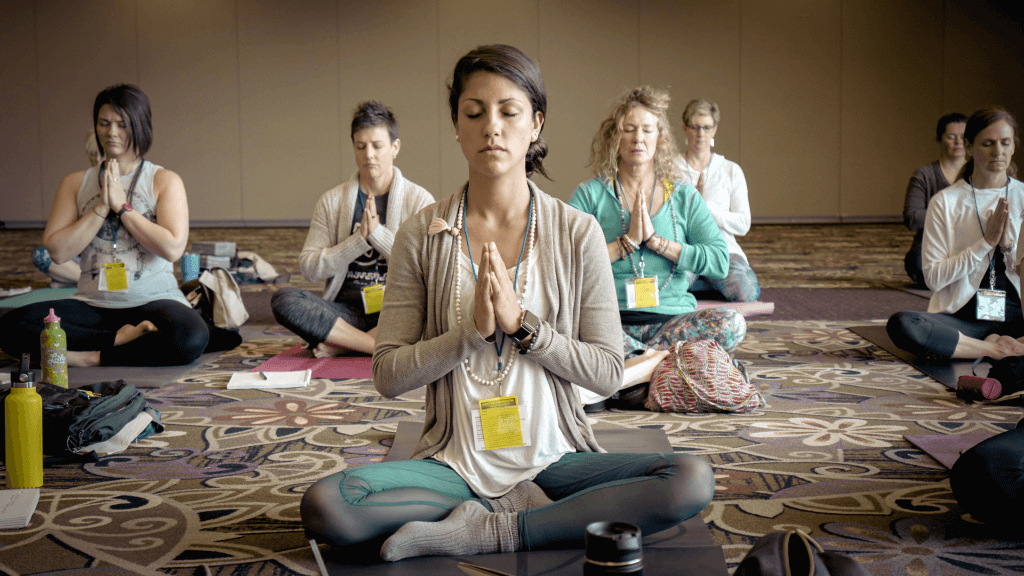 Meetup.com If you don't know Meetup, it's a really cool website and app to make groups for people with a common interest. There are often plenty of groups that meet to meditate together or talk about mindfulness. Some Meetup events will have a cost and some don't. Depending on where you live, this app might be more or less useful to you. But generally, it's pretty booming in cities around the world.
Google  If you put into Google – meditation sessions near me – I'm sure different options will come up. Give it a try and see what you find.
Meditation retreats  Retreats can be an amazing way to deepen your meditations after you've been practicing for a while or even a great way to finally sit down and give meditation a try. There is a huge variety of options, and so you wanna make sure that you find something that suits what you're looking for and your level. I'd recommend investigating how many days the retreat is, how many daily sessions there'll be, how long the sessions are and if it's a silent retreat. Based on what you find out, book something that feels right for you and where you're at. Here are a few suggestions of places to find meditation retreats:
Book Meditation Retreats  This is a website from where you can find a ton of different styles, levels, and formats of meditation retreat all around the world. They range from retreats that are like holidays that have meditation incorporated, all the way to a week of 10-hours per day of meditation. Make sure you find something right for you.  In the search bar, you can even put in the level you're looking for, for example, "level: beginner".
Vipassana retreat These retreats are more appropriate for people who have done meditation before or newbies who are ready to just fully dive right in. They are 10-day silent meditation retreats where the schedule makes room for 10-hours of seated practice per day. The price is by donation. I know a lot of people who have done these retreats, and the feedback is always that it's very hard, but a beautiful life changing experience.
Come meditate with me!  For anyone who is in or near Madrid, I'm hosting a weekend retreat at the end of November in the beautiful mountains that are right outside the city. We won't only be doing meditation, we'll also do some yoga, hiking and a vegetarian cooking class, but it could be an ideal circumstance to give meditation a try. For more details, check out my yoga website: Learn Yoga in Madrid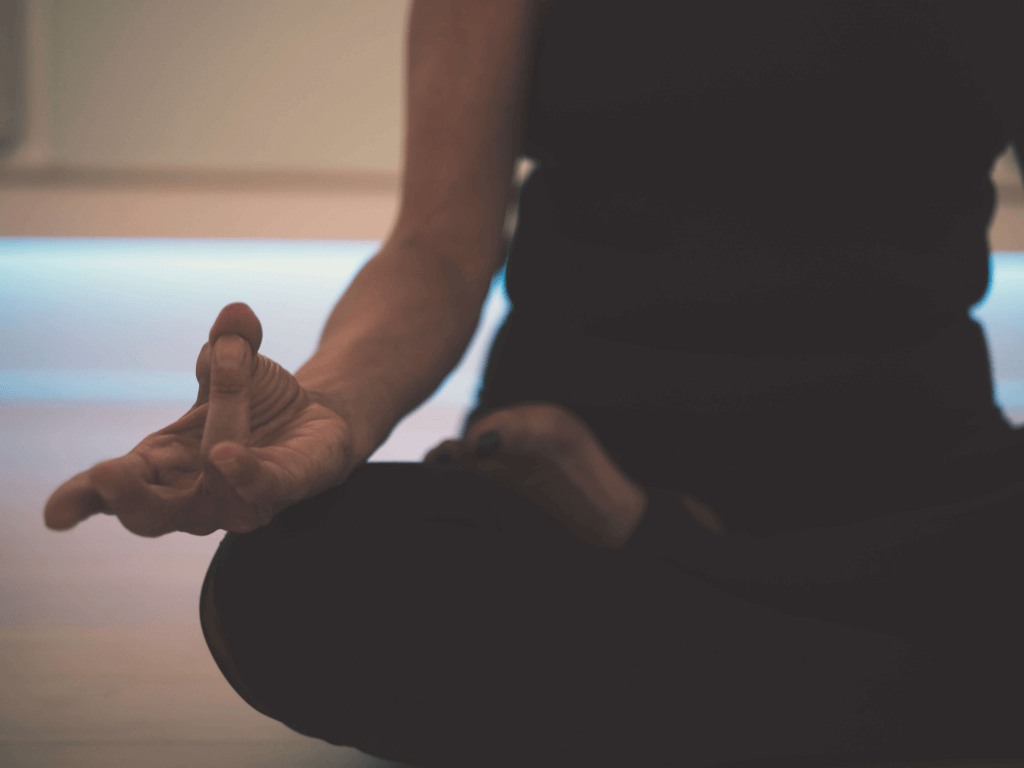 Digital meditation tools
Insight Timer – I recently discovered this app and love it. For anyone that's starting out, they have plenty of guided meditation sessions or short courses. If you prefer to do your sittings in silence, they have a timer that allows you to add bells at different intervals or to finish off the session. I find it quite handy!
Master your Mind (for beginners)  – When starting a new habit, sometimes having to invest a bit of money helps to commit to doing it more steadily. If that's the case for you, or if you're looking to do a course online, I highly suggest this one. The guy who guides it is super knowledgeable and really has a knack for guiding meditations. They say it takes 21 days to build a habit, so as a 5-week course with daily sessions, this course has got you covered.
YouTube   When I first started meditating, the original tool I used most often was YouTube. I'd put – guided meditation – into the search bar. Sometimes I'd add 10 or 15 minutes so that the videos that would come up would be specifically the amount of time I wanted. Or I'd add  -…for patience, or for compassion – so that the topic of the session would be in line with what I was looking for. Until I was ready to go find myself a meditation group, this was perfect for me.
Well for today, that's all I've got! Use what you feel drawn to and leave the rest behind. I know meditation may not be for everyone, but I strongly encourage you to give it go! Be patient with yourself and the practice, just like you would if you were learning to do Kung Fu. It takes a while to get the hang of.  But once you do, it'll revolutionize your world.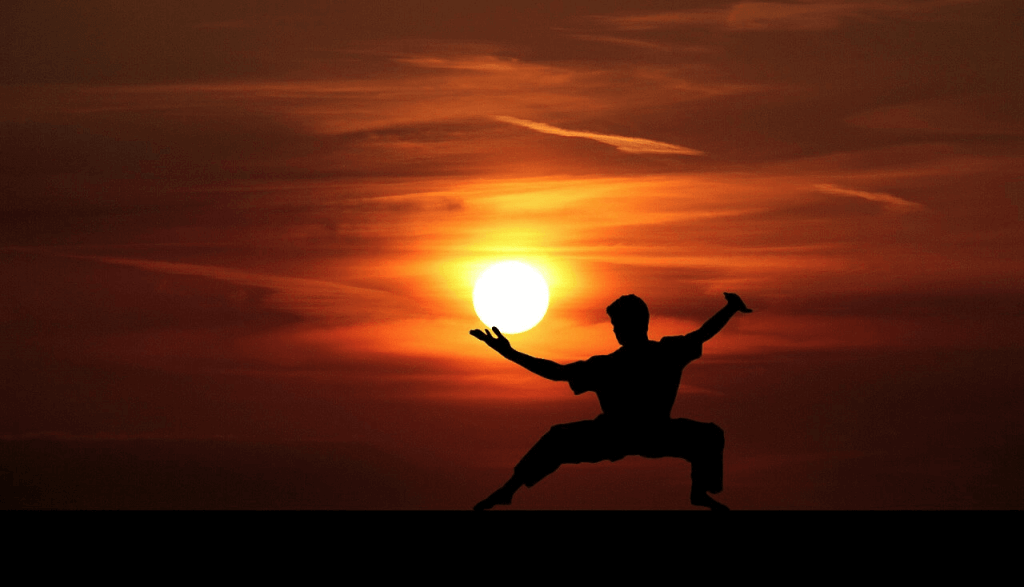 Liked what you read? Share away!
Don't have time to read this now? Pin it here!